We're a people-focused business, with a culture of continuous development where we like to work hard to deliver outstanding results and have fun along the way.
Attracting the most talented people is key to our ongoing success. That's why we provide an environment where you can learn every day, have the opportunity to grow and develop, and play to your strengths. We won't map out your career for you, but we will make sure you're aware of what might be available, talk about careers and your development and create some interesting opportunities for you to experience new skills.
We value a good work/life balance, encouraging honest and open communication between all employees. With stunning offices located on the bank of the River Tyne and a range of employee benefits, when you choose to work for Aspire, you are choosing an organisation that genuinely cares.
We were even named North East Company of the Year.
Equality, Inclusion and Diversity at Aspire
Aspire is an equal opportunity employer committed to creating a culture that respects and values each other's differences, that promotes dignity, equality and diversity that encourages individuals to develop their true potential.
Ella Wake – Project Manager

I joined Aspire 4.5 years ago as a project manager and have been working in the telecoms and IT industry for 11 years.
This was my first role as a project manager having passed my Prince 2 exams a couple of years before.
My previous roles were as a project coordinator.
Since covid Aspire have allowed staff to split their time between office and home working which for me has resulted in the feeling that I have a better home / work life balance.
I feel valued and supported in my role from both my head of department, director and colleagues which has meant that I've been able to develop my skills and knowledge in my role and feel confident that I can develop my career here.
I've met people that have become friends rather than colleagues and Aspire regularly hold social events allowing staff to socialise with each other outside of a working environment.
Callum Jones – Unified Communications Engineer
I've been at Aspire for my entire IT career so far, it's safe to say one of the best parts of working here is the people. Everyone is friendly and has a team spirited attitude towards work and the numerous social incentives the company host help everyone get to know each other outside a working environment as well. The atmosphere is very relaxed for the most part and you can come to work knowing you'll be able to get any support you need.
As above I've been here my entire career so far, progressing from an apprentice, through support into a technical delivery role where I am now. So, it's safe to say if you're prepared to put the work in and work with management and colleagues to get to where you want to be, you can do it.
Aspire has a very friendly, employee focussed culture, everyone's ready to support each other with any issue and I've made some lifelong friends here because of that culture.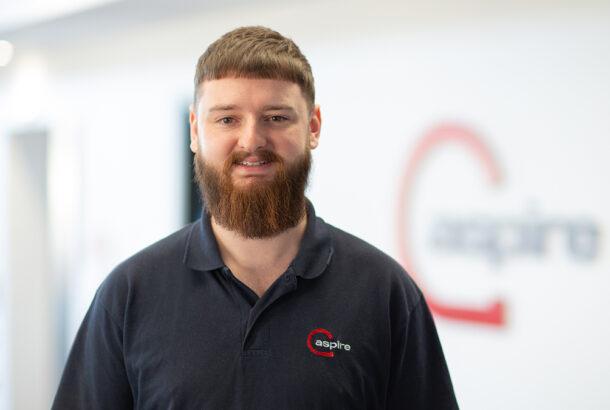 Ready for a career change?
Beth Huthart– Senior Customer Experience Specialist
I started working at Aspire 5 years ago and have worked within the Service Management Department for my entire time here and recently got promoted to Senior within our team. This progression has given me the chance to put my experience here into practice when training new starters and acting as an escalation point within our department. I enjoy that every day at Aspire is different, we have our set tasks but you never know what may come in throughout the day. In our department we get the opportunity to work with pretty much every department within Aspire on a daily basis due to the varied tasks we're involved in.
I like that we get the chance to really impact a customer's day to day experience with Aspire and can ensure they're getting the best from us.
Andrew Todd – Technical Consultant

Aspire has always had a great sense of teamwork and helping each other. If you're ever stuck with an issue you can approach anyone in the company for help, even up to the directors – everyone always has time to help and work towards the same goal.
I started at Aspire in 2015 as a 2nd line escalation engineer, working my way up to Field team leader, 3rd line engineer and currently Technical Consultant within the Tech Services department. Aspire was always happy to invest in my certifications to help me progress in my career.
The values that Aspire focuses on are part of why we have been so successful. The people Aspire hires build on these and make it a great place to work.
I'm Co-Chair of the Colleague Wellness Group. We're currently working on the concerns and requests raised by staff on our initial wellness survey.