As technology systems become more business critical, partnering with the right IT support and service desk partner has never been more important. Aspire offers 24/7 technical support to keep your business operational at all times.
For many businesses, 24/7 technical support is crucial to maintain business operations during and outside of standard business hours.
With all Aspire RealCARE packages, we offer our optional 24/7 support add-on which is delivered by our in-house 24/7 Service Desk. By offering a true 24/7 service with dedicated out of hours support engineers, we can ensure that your business's IT infrastructure is always online with both our remote and on-site support available.
Over 14,000 end users across our national customer base rely on our RealCARE IT Support Packages. We also offer RealCARE Voice for Telephony and Voice Support with a dedicated Voice Support Team.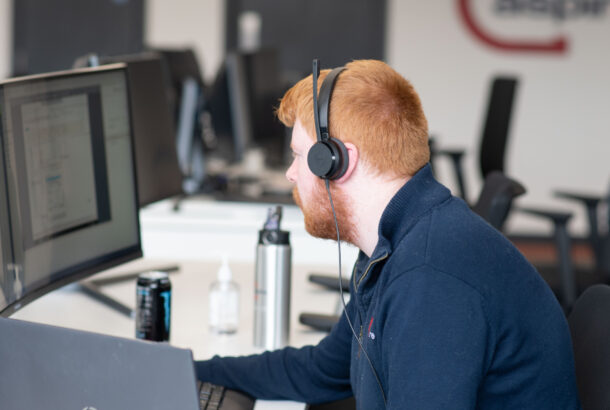 Find out how our 24/7/365 IT Support can benefit you

24/7/365 IT Support: How it Works
With our 24/7 IT support, we will manage and maintain your environment 24/7/365 and address any support issues during and outside of standard business hours.

We deliver IT support services via our in-house UK service desk based in Gateshead, Tyne & Wear. With our 24/7 support, you are fully supported whatever the time of day.
Advantages of RealCARE 24/7 IT Support

Aspire IT Service Desk
Access to 3rd line, Desktop and Server Support Desk Teams. Telephone and email support for IT issues is available 24/7/365.

Monthly Billing Model
Predictable costs in a per-user per-month billing model with no hidden surprise fees.

Dedicated Service Management
RealCARE customers are assigned a Service Account Manager to work on strategic technology goals and build relationships.

Aspire Customer Portal
Read service reports, manage your incidents, requests and quotes via our easy to use online Aspire Customer Portal.
"Super-fast response, many thanks. Really helpful and was shown how to resolve in the future within my PC settings. Thanks!"
Why Aspire for 24/7 IT Support?

Single Point of Contact
With RealCARE, Aspire will become your single point of contact for all of your IT requirements.

Dedicated Service Management
Our dedicated team are always on hand to support, working with you to ensure that your critical systems are protected.

Data Driven
RealCARE is data driven with a BI focus that drives exceptional levels of service.

'World Class' Service
Our services are underpinned by our unbeatable IT Support Solutions, best illustrated by our Net Promoter Score which averages +87, and is deemed 'world-class'.
Speak to one of our team to find out more